Tags
007 fragrance, C word, Clanger, Dottling Pauline, Fake or Fortune?, FT, Glenelg, Goya, Grayson Perry, Judith Leibner, Life of Riley, Monica Vinader, Philip Mould, Sarah Brightman, Strictly Come Dancing, Theo Fennell, Visnja, www.howtospendit.com, Zanzan Avida Dollars
Suddenly the temperature has plummeted here in Suttonford.  (Yes, it's Candia.)
Why have you not been regaling us with the antics of your Suttonford friends and neighbours?  I hear you ask.  Why did you publish all that poetry recently?
Well, dear readers, I had OTHER THINGS TO DO and I thought the poetry would keep you amused till I got back on track.  You see, my geraniums- the ones that didn't even flower this summer, owing to lack of sun- had to be uprooted and brought indoors before the first frost.  Then I searched in vain for seed from my sweet peas, but they hadn't flowered either, so there were no pods.
Now I am continually hearing the 'C' word bandied around town.  Yes, Christmas will be upon us and I, like my female friends, will be found prostrate over the kitchen table, my head being attacked by Goyaesque, bat-like creatures representing the nightmarish oppression of trying to figure out what to purchase for all the individuals on my festal recipient list.  Our spouses, who take little to do with such trivialities, may be found prostate from other causes, but that's another story…
What to buy for Sonia, our clairvoyant neighbour…?
The vicar solved this one, as when I attended the Curs in Crisis event at the local church hall, I bought an auction promise of a Bell, Book and Kindle exorcism which he had donated and which our medium might like to activate against her cavalier, in every sense of the word, ghost.  A signed copy of a media-friendly London art dealer's book: Sleuth: The Awesome Quest for Lost Art Works might be appropriate as a souvenir of her having been featured on the BBC programme, Fake or Fortune (see earlier post.)  Sonia would probably prefer the author himself, but you wouldn't want Mould in your stocking, would you?
Gyles' mother Ginevra is easy-peasy:
a bottle of Dewlap's Gin for Discerning Grandmothers always hits the spot.
Unfortunately one of her family will have to invest in their future by supplying her with a Theo Fennell USA Space Shuttle Tequila shot set. £15-18,000 is somewhat out of my league.
The Husband:
likewise no problem.  Vouchers for Pop My Cork!  and a DVD of Great Cricketing Moments fits the bill.  Maybe a Life of Riley bottle trunk if he is good. (No more ogling at Ola Jordan's hot pants in Strictly Come Dancing.)
Starstruck Cosmo, who sleeps in his observatory-or that's his story: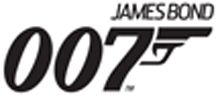 James Bond OO7 fragrance and an alibi.  Or maybe a certificate twinning Suttonford with a Martian market town. ( Don't laugh. It's already happened in Glenelg.) Cosmo could be registered for a Space Tourist flight with Sarah Brightman and could have a promissory note in a nice envelope. (Come to think of it, SB always sounded a bit like a Clanger.)
But does he wear man perfume?  I think of Tatiana in To Russia with Love: she tried to persuade the spy to dab a little and coaxed, Russian men use scent and James Bond replied tersely: British men bathe.
Gyles:
alligator loafers. Smooth.
Tristram:
a Dottling Pauline safe- no, wait a minute!  That's £90,000. That's a couple of years' school fees. I suppose he could rent out the drawers for B&B in the manner of those mortuary file hotel rooms in Tokyo.  No, he can have a set of Grayson Perry The Vanity of Small Distances table mats instead- only £360.  He likes laying the table. Clammie told me.
Carrie:
a Visnja Power brooch.  Oops- no, that is £48,000.  She'll have to make do with some Zanzan Avida Dollars sunglasses@ £260.  Wasn't Avida Dollars an anagram of Salvador Dali, dahling?
Brassica:
Okay, she might have sent a note up her chimney to Santa Baby for a Judith Leibner Starfish clutch bag covered in Swarovski crystals, but at £3,125, she might just have to accept a less expensive Monica Vinader Agate-print scarf.
Clammie: Pippa Middleton's Celebrate book.  Actually, no.  I'm keeping that for myself.  She can have a tube of anti-cellulite cream to assist her in maintaining a rear formidable like the Duchess' sister.
And so on… You see, all you have to do is visit the FT howtospendit.com– simples!
Now I can concentrate on Clammie's Guy Fawkes Party…