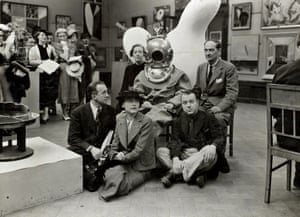 (Dali at 1936 Exhibition of Surrealist Art; Photo- Scottish
National Gallery Art)
I still re-visit that moment in dreams…
You walked back towards me, your ear inclined.
The car window wouldn't wind down in time.
We accelerated and you were gone.
You'll never know what I was going to say;
you try to read my lips, but always fail.
I mouthed key phrases incoherently,
like an escapologist in a tank,
or Dali inside his diver's helmet,
suffering a slow asphyxiation.
The impatient driver should take some blame,
but he will not carry it to his grave.
In the morning, no sound comes from my throat
and I keep slapping the air with flat palms.